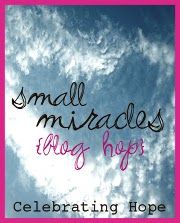 Have patience with me, I'm learning how this blog hop thing works.. I added my blog to the list a few days ago, and just realised that I have to write a post about hope to go along with it. I have to say, that the other blogs I have read in the past few days have been beautiful and inspiring. Thanks to all the Mamas out there who have participated, this whole blogging adventure has given me hope!
This is what I am hoping:
1. I hope this blog hope continues into the months ahead. The 19th of every month has such meaning to me. Kristen was born on the 19th of November, and her scheduled c-section was for the 19th of March. So I'm so glad that on the days of the month that I am the saddest, there will be a flood of hope pouring through online, for me, and for every BLM out there.
2. My beautiful family, I have hope for many bright days in my future, with my husband by my side, watching Jenna grow!
3. I have hope for more children, not to replace Kristen, but to share in the bountiful love that I have in my heart! I hope that I can carry another baby to term.
4. I have hope for the online friendships that are blossoming as a result of our heartbreaks. The words of support that I have received since starting this blog mean the world to me, and have helped me more than I think anything else has been able to! Thank you sooooooo much ladies!
5. Last, I have hope that everyone I have met online is able to find their own sense of peace. That one day, thoughts of their precious babies will give them more comfort than heartache. The love I carry in my heart extends to all of you, and your journeys as well. xo